A proud past and a promising future
City of Aragon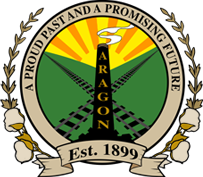 In 1929, Aragon was referred to as an "Industrial Utopia" because of the employment and recreation offered by one of the original industrial enterprises of Polk County. The Aragon Mill was owned by A.D. Julliard & Company, Inc.
The mill was built and chartered in 1898 and was one of the largest in the state. In 1864, troops from Sherman's forces camped out at the spring located here in hopes to outflank Johnson's army at Allatoona, which resulted in the battle at New Hope Church in Dallas.
Aragon has since become an incorporated town with a government body consisting of a mayor and four council members. It is one of three cities in Polk County.

An annual Kids Day is held in June at the Aragon Mill Pond and features fun events for children 16 and under. The annual Aragon BBQ, held the fourth weekend in June, features a softball tournament, kids games and a firework extravaganza.
The City of Aragon Police Department now offers criminal background checks for the following:
Employment

Working with the Mentally Disabled

Working with the Elderly

Working with Children

Personal Copy

The Cost is $15.00
Trash service monthly residental $22.00, monthly senior citizen $19.00 for more options please call
770- 684-6563
New Years Day, 4th of July, Labor Day, Thanksgiving Day, Christmas Day trash service does not operate.
If you would like to open a new garbage account please go to the make a payment tab and fill in all the information for the account number use 0000 and in the memo line state new garbage account, It is a $40.00 non refundable deposit

If you would like to make a payment on a citation, please do so by clicking here.
If you need to make a trash payment or property tax payment, please do so by clicking here.
Garbage Payment, Property Taxes, Buisness License, Rentals